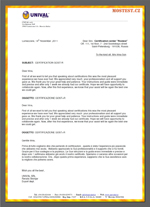 SUBJECT: CERTIFICATION GOST-R
Dear Irina,
First of all we want to tell you that speaking about certifications this was the most pleasant
experience we have ever had. We appreciated very much your professionalism and all support you
gave us. We thank you for your great help and patience. Your instructions and guide were immediate
and precise and after only 1 week we already had our certificate. Hope we will have opportunity to
collaborate again. Now, after this first experience, we know that your assist will be again the best one
we could get.
OGGETTO: CERTIFICAZIONE GOST+R
Gentile Irina,
Prima di tutto vogliamo dire che parlando di certificazioni , questa e stata l'esperienza piu piacevole
che abbiamo mai avuta. Abbiamo apprezzato la Suo professionalita e il supporto che ci ha forniti.
Grazie per il Suo sostegno e la pazienza. Le Sue istruzioni e la guida erano immediate e precise e
dopo solo 1 settimana abbiamo gia avuto il nostro certificato. Speriamo ci saranno altre occasioni per
la nostra collaborazione. Ora , dopo questa prima esperienza, sappiamo che la Sua assistenza sara
la migliore che potremo avere.
Wish you all the best ,
UNIVAL SRL
Renata Skrinjar
Export dept.